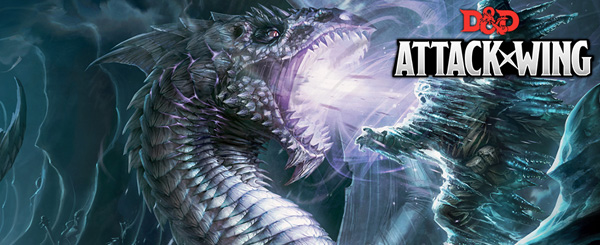 What is D&D Attack Wing?
Edit
D&D Attack Wing is a Dungeons & Dragons tactical flight and ground combat miniatures game, featuring pre-painted dragons, siege weaponry, and troops from the Dungeons & Dragons Forgotten Realms®   universe.
Utilizing the FlightPath maneuver system, command your army in epic aerial and ground combat & customize your army with spells, equipment, weapons, special abilities and more!
D&D Attack Wing is the second Attack Wing-game released by Wizkids. Just like the other Attack Wing-game, Star Trek:Attack Wing, this game is based on the FlightPath™ system by Fantasy Flight Games. If you have played any of those game you will feel right at home playing this game. However this game includes a few new features.
The most obvious news in this game is the more 3-dimensional game play with more than one play level (ground and air). However this game also includes area attacks such as line, cone and burst where all targets within a certain area is attacked.
The game comes with two rulebooks. One 4 page booklet with simplified quickstart rules that will help players new to the FlightPath™ system get up and running a game within minutes. And then there is ofcourse the complete 40 page rulebook.
The rulebooks can be downloaded freely from the Wizkids Games site. The Quickstart booklet can be found here(PDF) and the complete rulebook is found here(PDF).
If you are uncertain about how some rules work you can get your questions answered here.
Wave 11 (Never Released)
Gold Dwarf Cleric
Darkenbeast
Young Copper Dragon
Organized Play
Edit
D&D Attack Wing OP Booster Brick Wave 1
Accessories
Edit
D&D Attack Wing Base and Peg Sets
D&D Attack Wing Template Set
D&D: Attack Wing Dice Accessory Set
Latest activity
Edit
Photos and videos are a great way to add visuals to your wiki. Find videos about your topic by exploring Wikia's Video Library.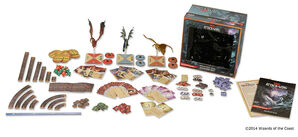 Community content is available under
CC-BY-SA
unless otherwise noted.