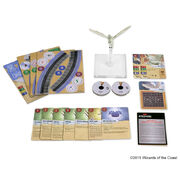 When a key member of the Emerald Enclave goes missing, Bellatoris and Milo Timberheart lead a small force to discover her fate. But what awaits them at the Sacred Stone Monastery is a treacherous army of cultists who serve Ogrémoch, the Prince of Elemental Earth, and the ensuing battle will test every ounce of Bellatoris's abilities, as well as Milo's courage.
Miniature
Edit
Creature Card
Edit
Upgrade Cards
Edit
Equipment
Edit
Campaign Adventure
Edit
9 Monastery of the Sacred Stone.
Community content is available under
CC-BY-SA
unless otherwise noted.